About Book
That One Summer by C.J. Duggan
(Summer #3)
Publication date: December 17th 2013
Genres: Contemporary, New Adult, Romance
Synopsis
Loving Chris Henderson would be wrong. Diabolically disastrous. I mean, what is there about him to love? He's moody, bossy, brooding, a control freak, and that's on a good day … but there was one achingly obvious fact that haunted my every thought, every minute of every day …

He sure could kiss.

As the countdown to the new millennium begins, there is one thing everyone agrees on: no one wants to be in Onslow for New Year's Eve.

So that can only mean one thing: road trip!

No longer the mousey, invisible, shy girl from years ago, Tammy Maskala is finally making up for all those lost summers. A new year with new friends, which astoundingly includes the bossy boy behind the bar, Chris Henderson.

She likes her new friends (at least most of them), so why does she secretly feel so out of place?

After chickening out on the trip, a last-minute change of heart sees Tammy racing to the Onslow Hotel, fearing she's missed her chance for a ride. The last thing she expected to meet was a less-than-happy Onslow Boy leaning against his black panel van.

Now the countdown begins to reach the others at Point Shank before the party is over and the new year has begun. Alone in a car with only the infuriating Chris Henderson, Tammy can't help but feel this is a disastrous start to what could have been a great adventure. But when the awkward road trip takes an unexpected turn, Tammy soon discovers that the way her traitorous heart feels about Chris is the biggest disaster of all.

Fogged up windows, moonlight swimming, bad karaoke and unearthed secrets; after this one summer nothing will ever be the same again.
Excerpt
Chris leaned forward to lower the music, but it was too late now; there was a ringing in my ears.
He had nice hands, tanned by the sun, tidy fingernails; he could totally be a hand model with hands like those. If you were going to notice Chris and like him, his hands would probably be the first thing that would draw you to him, seeing as his face was always an intimidating scowl. It wasn't the first time I had noticed his hands – there had been countless times he had served me a drink at the bar, or handed me change and I had noticed how nice they were. The second thing I noticed about Chris (if I was noticing things) was his shoulders. They were so square, so symmetrical; he looked like he was a swimmer. He had great posture, even when he stood behind the bar between customers, with his arms folded – his stance was straight, proud, expectant. Yep! Your eyes would trail from those hands to those shoulders and usually be met with a piercing flick of the deep brown eyes that would cause you to quickly look away, or caused me to, anyway.
He had been pretty intimidating in the beginning, but as time wore on I just found him downright rude, no matter how lovely his hands and shoulders may be.
"What are you staring at?" Chris's voice pulled me out of my thoughts.
I snapped my head away to look out of the window. "Nothing."
"They're not that white, are they?" he said.
My attention moved from the window to Chris again with a confused frown.
His head tilted downward as he shifted his leg a little to expose … a kneecap.
I smiled. "You're wearing shorts?"
"You don't have to sound so surprised." He lowered his leg.
"I don't think I've seen you in shorts before." My eyes trailed over his tan cargos; it seemed that in line with nice hands and shoulders, Chris had nice legs. Okay, best not to stare, I thought. But then something grabbed my attention.
"You have impressively tanned legs for someone who lives in Levi's," I mused. "You don't sun-bake in a pair of budgie smugglers on the weekends, do you?" That would just be too much.
Chris burst out laughing, so loud and abruptly it caused me to flinch at the unexpectedness of it. Laughter from Chris was as rare as seeing him in shorts.
"Budgie smugglers?" he asked.
"Yeah, you know, Speedos, Y-fronts,"
"I know what they are, Tammy, and the answer is no, no I don't do that." He grinned, concentrating on the road.
I took a moment to study Chris, not out of the corner of my eye this time but to unapologetically study him. I wanted to fully absorb the rarity of his smile, of his good humour, because let's face it, it would probably be the first and last time I saw it.
I curved my brow. "So exceptionally tanned legs but no weekends spent in budgie smugglers, eh? Curiouser and curiouser," I smirked.
Chris coughed. His face flexed back into those familiar stern lines as he straightened in his seat. "Tamara?"
I cocked my head. "Yes, Christopher?"
His lips twitched as he fought not to smile. "Stop staring at me."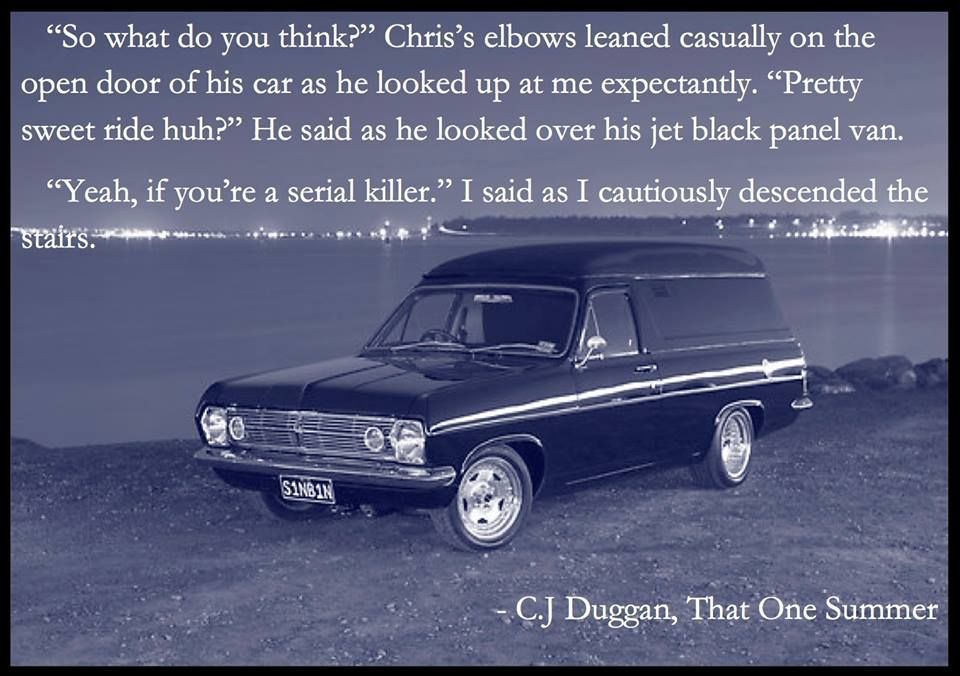 Available on Kobo
About Author
C.J Duggan is an Australian author who lives with her husband in a rural border town of New South Wales, Australia.
The Boys of Summer is Book One in her Mature Young Adult Romance Series.
For more on C.J and 'The Summer Series', visit her online.
Author interview:
1. What is your writing process like, what comes first, characters or story?
Definitely the characters, they are first and foremost in my thoughts, they're the ones that dictate how the story is to be told. Just when I think I have it mapped out one way to write the story a character will usually throw me for a loop and take me in a completely different direction. Although I am very organised in my office in my surroundings in the dead of night I write mainly by the seat of my pants with only a vague outline in my head on where I want to the story to go, that's the bit I love about writing, the discovery.
2. What sparked the idea for the series ?
It was something that has been churning in my mind since I was a little girl, even if it was something no more mapped out than a group of friends hanging lakeside over a summer. It was an idea that has manifested into an entire world and I felt that I owed it to that eleven-year-old little me to develop it into a story. I know I was eleven because I had found an old exercise book with the story plotted out in my child-like handwriting and I could seldom believe it was something that had been swimming
3. Are there any parallels that could be drawn from your life and the Summer Series?
I grew up in a small country town in Australia so I am well aware of what it's like to have to make your own fun. Unfortunately our town wasn't set on the banks of Lake Onslow but it was still a nice place to live. My first job was working as a barmaid at the local hotel and I remember the fear of my first shift and learning the ropes.
4 .If you had to pick your favorite scene from 'An Endless Summer '?
There are so many scenes I love. Chris and Tammy are so dynamic together but without giving too much away there is a late night swimming session that was quite fun to write.
5. Which two things do you think readers might not know about you ?
I am addicted to Pepsi Max and buying handbags, lots and lots of handbags.


Giveaway
Prize:
-- (1) complete set of Summer series
-- open internationally
a Rafflecopter giveaway